Things To Do And See

Activities For Kids When Visiting

Attractions & Historic Sites

Visit Temple Square

Shopping

Sightseeing Tours

Family History & Genealogy Records - Research Library

Salt Lake City Event Calendar: Music, Arts, What's Happening

Plays, Musicals, Theatre, Dance, Concerts, Music and The Arts

Utah Outdoors & Recreation, Camping, Fishing, Hiking, Boating, etc.

Horseback Riding In Utah

First Time To Salt Lake ?
Our 5 Minute Guide to Salt Lake City

Park City Utah Vacations

The Town of Park City

Salt Lake City Golf Courses

Utah Olympic Oval in Salt Lake


Transportation

Salt Lake International Airport - Official

Flights to Salt Lake City

Salt Lake Taxi Cabs

Salt Lake Airport Shuttles

Trax Light Rail

Car Rentals

SUV Rentals

RV Rentals

Parking Downtown Salt Lake


Salt Lake City Lodging

Downtown Salt Lake City Hotels

Salt Lake Airport Hotels

Salt Lake Mid-Valley Hotels

West Valley Area of Salt Lake - Maverik Center Hotels

Salt Lake East Valley Hotels

Sandy / Draper Hotels

Child Friendly, Hotels with Indoor Pools

Extended Stay Hotels Throughout Salt Lake

Pet Friendly Hotels
In Salt Lake City

Meeting Space in Salt Lake City

Bed And Breakfasts in
Salt Lake City


Park City Visitor Info

The Town of Park City

Park City Lodging

Park City Hotels

Park City Restaurants

Park City Home & Condo Prices

Park City Homes For Sale


Year Round Visitor Info

Salt Lake Visitor Guides, Travel Planners And Discount Packages


Salt Lake Area Maps

Request Free Lodging Brochures

Salt Lake City Liquor Laws

About Salt Lake City

Salt Lake Demographics

Salt Lake Photos

History of Salt Lake City

Salt Lake City Restaurants

Tipping Guidelines for Utah

Salt Lake City Bars, Nightlife

Live Music in Salt Lake City

Karaoke in Salt Lake City

Everything Throughout Salt Lake City - 102 Community Links:
Arts - Theatre - Dance - Museums - Fun - Attractions - Festivals - Gardens - Music

Religious Services / Churches in Salt Lake City

Massage Therapists and Day Spas
In Salt Lake City

Salt Lake City Wi Fi Internet Hot Spots

Downtown Salt Lake City

Cycling, Tour of Utah

The Peppermill Concert Hall in Wendover Nevada

Wendover Casinos - 90 Minutes From Salt Lake

Salt Lake City Apartment Rental Rates

Salt Lake City Home & Condo Prices

Salt Lake City Homes For Sale

Buses From Salt Lake City To Zions National Park

Transportation From Salt Lake City To Southern Utah

Free Moving Packages for Utah

Last Minute Deals: Discounted Hotel Packages

Salt Lake City Travel Planners & Coupons, Free!!!

Salt Lake City's Best Restaurants


Winter Vacation Lodging

Utah Vacation Lodging

Park City Lodging

Park City Hotels


Skiing Utah

Salt Lake City Ski Lodging

Learn To Ski & Board

Utah Ski Resorts

Discount Ski Lift Tickets

Ski Salt Lake







Contact Us By Email




It's and we would like to welcome you to the Salt Lake Tourist & Visitor Centers official online edition. Our Salt Lake Travel Guide provides the latest, detailed information for the Salt Lake City area. Feel free to browse our vacation planning pages to learn more about beautiful Salt Lake City before you visit.

Our Salt Lake At A Glance publication is an Insiders Guide and an actual visitor guide for the city of Salt Lake, ( "a city search of Salt Lake" ) and we can arrange to have free brochures mailed to you for any area of Salt Lake City and even Park City Utah. Moving to Salt Lake City... Free Moving & Relocation Packages




Would you like to have a free Salt Lake City Visitor Guide mailed to you? Just ask us.











________________________________________



An Overview of Salt Lake
Salt Lake combines the amenities of a large metro area with the opportunity to take advantage of year round outdoor recreation within minutes in every direction. An attractive, safe, and growing city, Salt Lake offers unequaled views, a thriving economy, exciting nightlife, remarkable history, the warm hospitality of a small western town, and *The Greatest Snow on Earth, TM*. Salt Lake is an incredible destination for patrons of the performing arts with: Ballet West, Utah Opera Company, Ririe-Woodbury Dance Company, Repertory Dance Theatre, Mormon Tabernacle Choir, The Utah Symphony, Numerous theater groups and over twenty art galleries are within minutes of downtown hotels.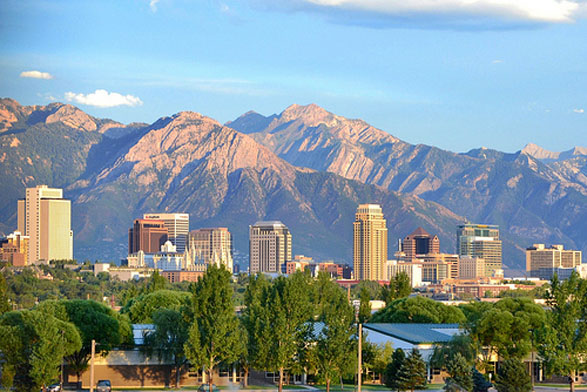 Salt Lake is located in northern Utah and sits in a large valley between two mountain ranges, the Wasatch on the east side and the Oquirrhs to the west. Getting to Salt Lake has never been easier. All of the major airlines fly into Salt Lake, so you can get here in no time. Half of the U. S. population is located within a two and a half hour flight from Salt Lake and two major interstate highways, I-15 and I-80 intersect in Salt Lake City.

Since hosting the 2002 Olympic Games, Salt Lake has shined and continues to showcase our city's profile as a destination to visit. When winter hits, the snow falls on the slopes of our four world-class ski resorts, which are Alta, Brighton, Snowbird, and Solitude. Up in Park City, three world-class ski resorts and the Utah Olympic Park are less than a 40 minute drive from downtown Salt Lake. With the influx of relocatees, and owners of second homes, Park City has transformed itself into a vibrant year-round city. During spring, summer and fall, our canyons are filled with hikers, rock climbers, mountain bikers and outdoor enthusiasts.

Salt Lake City is the Utah state capital and seat of Salt Lake County. Located in the north central part of the state, it is 24 km (15 miles) east of the Great Salt Lake, and is situated along the western slope of the Wasatch Mountain Range. The Salt Lake Valley was once part of ancient Lake Bonneville. Now, only a few rivers pass through our city.

Salt Lake City is the worldwide headquarters of the Church of Jesus Christ of Latter-Day Saints. Salt Lake is Utah's largest city in a large region of the interior West and serves as the industrial, financial, and commercial center of Utah.


Salt Lake City has a dry climate, with only 411 mm (16.2 in) of precipitation per year. However, the Wasatch Mountain Range is well watered, and the runoff is used to water the valley. The average July daytime-nighttime temperature range in the city is 33 to 18 C (92 to 64 F), and the average January range is 2 to -7 C (36 to 19 F).




Downtown Salt Lake City's Trax Light Rail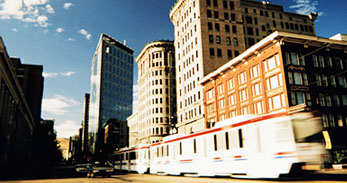 Downtown Salt Lake City
Is noted for its wide streets and spacious blocks, a legacy of the Mormon settlers who laid out the city in 1847. The city was built on a grid system based on the four streets bordering Temple Square, the focus of the downtown area. Inside Temple Square is the Mormon Temple, which took 40 years to build - from 1853 to 1893. Other important sites to visit are the Mormon Tabernacle, the Utah State Capitol Building, the Salt Lake City and County Building, the Roman Catholic Cathedral of the Madeleine, the University of Utah, and the Energy Solutions Area where our Utah Jazz play their home games. Trax light rail was completed in 2001 and provides quick access from one area of the valley to the next although a vehicle is still the choice of transportation means. For more info on Salt Lake cabs, taxis, shuttles and transportation info click here. One-of-a-kind, unique shopping in Salt Lake City
Salt Lake's Most Visited Attraction!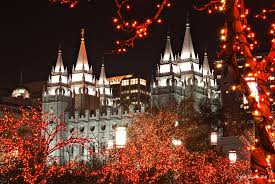 Temple Square is Salt Lake's Most Visited Attraction - A Highlight for Both Visitors and Local Residents All Year Long.



The Salt Lake City International Airport is just minutes west of downtown city center. Thirteen blocks west of Temple Square lies the Utah State Fair Grounds, and the Utah state capitol building stands slightly to the north. South of Temple Square is the city's central business district with many fabulous hotels. The main campus of the University of Utah is just fifteen blocks east of city center.


The latest Salt Lake census figures can be found on this page... Demographic Info for Salt Lake City Possibly looking for a home to buy? Salt Lake's Multiple Listing Service is on the Utah Homes For Sale Page.




Salt Lake City Vacation Planning
Salt Lake Visitor Guides, Travel Planners Plus Discounts & Coupons


Interesting Facts
Did you know that Harmons Kentucky Fried Chicken started in Salt Lake City? It was the model and first franchise of KFC. It's still there today at 3900 South and State Street. Do you know what Salt Lake's culinary claim to fame is? Ever hear of fry sauce? It's the sauce comprising mostly of mayo and ketchup that you dip french fries in. Up until a few years ago you could not get it outside of Utah, now all the fast food chains carry it. How about a Pastrami Burger....Only found in Utah!


Three AAA Travel Offices are located throughout Salt Lake City and one of the many benefits of being a member of AAA is is that you can stop by and pick up guides, maps, and many other brochures to assist you during your visit to Salt Lake.

Foothill Area, East of Downtown Salt Lake City
1400 South Foothill Drive, Ste. 154 at 1300 East.
Phone: 801.266.8472

Murray Area of Salt Lake City - Midvalley
5207 South State Street, Ste. 2
Phone: 801.238.1250

Draper Utah, Southern Part of the Salt Lake Valley
185 East 12300 South, Ste. 100 at Draper Pkwy.
Phone: 801.878.8500



Official websites of hotels located throughout Salt Lake City Visit. For more info on Salt Lake City Downtown Hotels View Rates. For Salt Lake City Hot Deals on Hotel Rooms Tap to View


Would you like a Free Salt Lake City Visitor Guide and Discount Coupons, or Ski Planners to save you money while you are here? Or how about a Salt Lake City Relocation Package for either Salt Lake City or Park City, they are available and they're free! We're here to help you save money and enjoy your vacation or upcoming move to Salt Lake City Utah!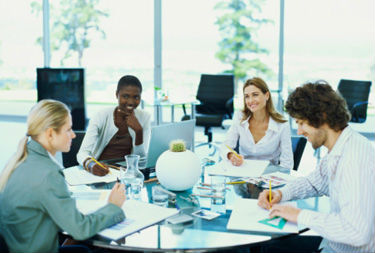 Welcome, we are proud to bring you our official online directory! We hope the information we compiled will be useful to you, and we sincerely hope that you find everything you are looking for. When you do Visit Salt Lake, feel free to bring us along on your mobile device. Our goal is to make your visit more enjoyable by providing updated information.

Enjoy Salt Lake and all of Utah as much as we do.




Views




Salt Lake Tourist & Visitor Center
Copyright 2000 - 2017, All Rights Reserved.
Home